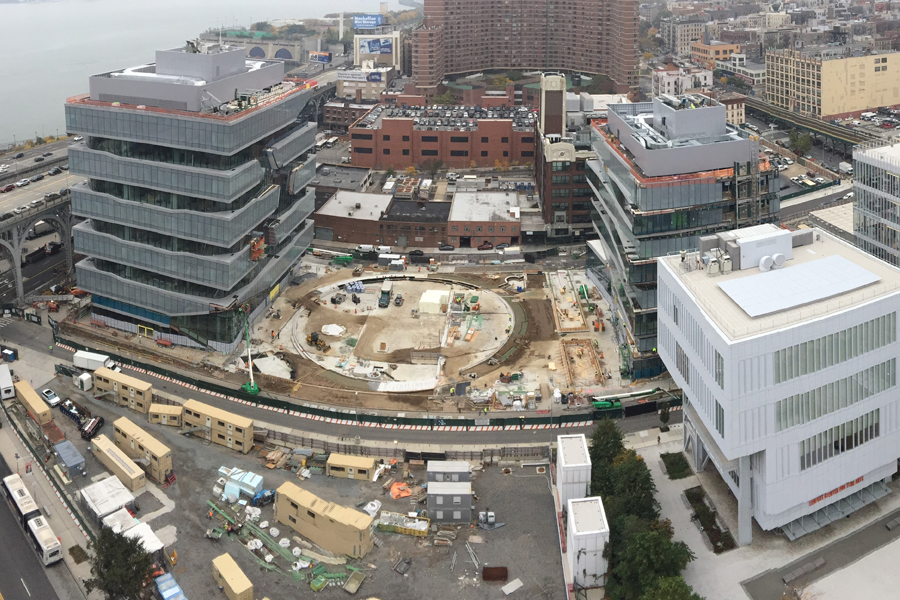 Construction update: weeks of 7/5/21 and 12/7/21 | Colombia
See a PDF version of this week's update
What is happening
Colombia Business School
Site 7 (West Site)
Interior fittings (walls, glass partitions, ceilings, floors, carpentry, GFRG) and mechanical, electrical and plumbing (MEP) installations on the ceiling on floors 1 to 11
MEP commissioning
Three construction cars are in service
Furniture delivery
Site 6B (East Site)
Completion of installations of GFRC units on the exterior walls of floors 2 to 8
Interior fittings (walls, glass partitions, ceilings, floors, carpentry, GFRG) and MEP overhead installation on floors 2 to 8
Three construction cars are in service
Furniture delivery
Activity Below Ground Level / W. 131st Street Utilities
Work on the loading dock is progressing
The ceiling of the truck ramp is being plugged and taped
Painting is in progress throughout
Open spaces between 130th and 131st streets and along 12th Avenue
Continuation of the living roof layer
Structural backfill, rebar, formwork and concrete finish slab in progress
Installation of electrical conduits, paving stones and trench drains
Hanover cobblestones / hardscape are underway
600 West 125th Street
The contractor will drill piles to support the excavation and pour the concrete for the soldier piles
The contractor will fill the test pits on the south side of the site
Please note that all activities are subject to change based on weather and other field conditions.
What to expect
Construction activity
Regular weekday working hours: 7 a.m. to 6 p.m. Saturday and Sunday working hours: 7 a.m. to 5 p.m. After-hours permit issued for the start of construction at 6 a.m. to allow physical distancing of workers at entry to the site. Permit outside opening hours issued from 6:00 p.m. to 11:00 p.m. Monday to Friday for the installation of exterior walls to be carried out in the buildings of the business school.
Equipment deliveries to the site are underway
Temporary impacts on traffic and transport
Refer to road signs for the west side of Broadway from 129th to 130th Street – parking is permitted after 6:00 p.m. and on weekends
W. 131st Street between Broadway and 12th Avenue is open to one-way westbound traffic
The parking lane will be closed on the south side of 125th Street W, from Broadway to St. Clair Place. Parking will not be available on the south side of W. 125th Street from Broadway to the center block in front of the full length of the 600 W. 125th Street construction fence.