CLOU Architects Sanya Farm Lab is an agricultural retail and exhibition space in China
located in nanfan district in sanya, china, clou architects sanya farm lab is a multi-functional exhibition and retail space. spanning 4000 m² in the middle of the southernmost town of the tropical island of Hainan, the project takes the form of a four-story structure focused on modern organic Agriculture display and changing lifestyles. the complex system of voids erases the traditional boundaries between nature and the city, allowing a seamless coexistence between technology and life, maximizing communication and visitor interactions.all images courtesy of Brilliant Lab
The architects of the CLOU sought to combine the climatic characteristics of the region, integrating its scientific and technological agricultural elements. As part of an exhibition center, the agricultural lab integrates high-tech displays such as agricultural robotics and indoor vertical farming, introducing a whole new farm-to-fork experience. The intention of the project is to present high-level technologies to the public in real time, with an emphasis on the evolution of agricultural technologies developed in the sectors of society and education.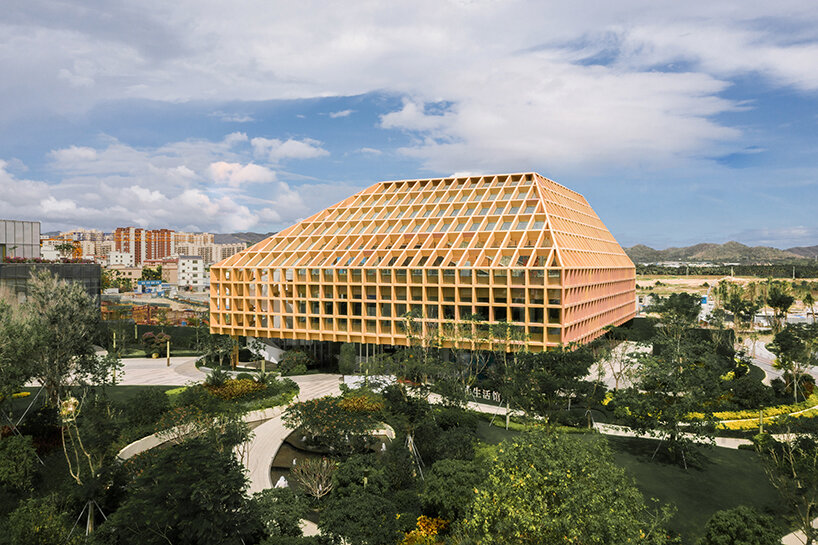 the architects completed the architectural structure and interior design in three phases, taking into account platforms, stairs and sun protection. at the beginning, they built the outdoor public space delimited by clear scales and rich levels responding to the functional mass of the four floors. the cantilever on the second floor created a semi-outdoor rain shelter for the lower level which accommodates bar and restaurant areas and an outdoor public play platform.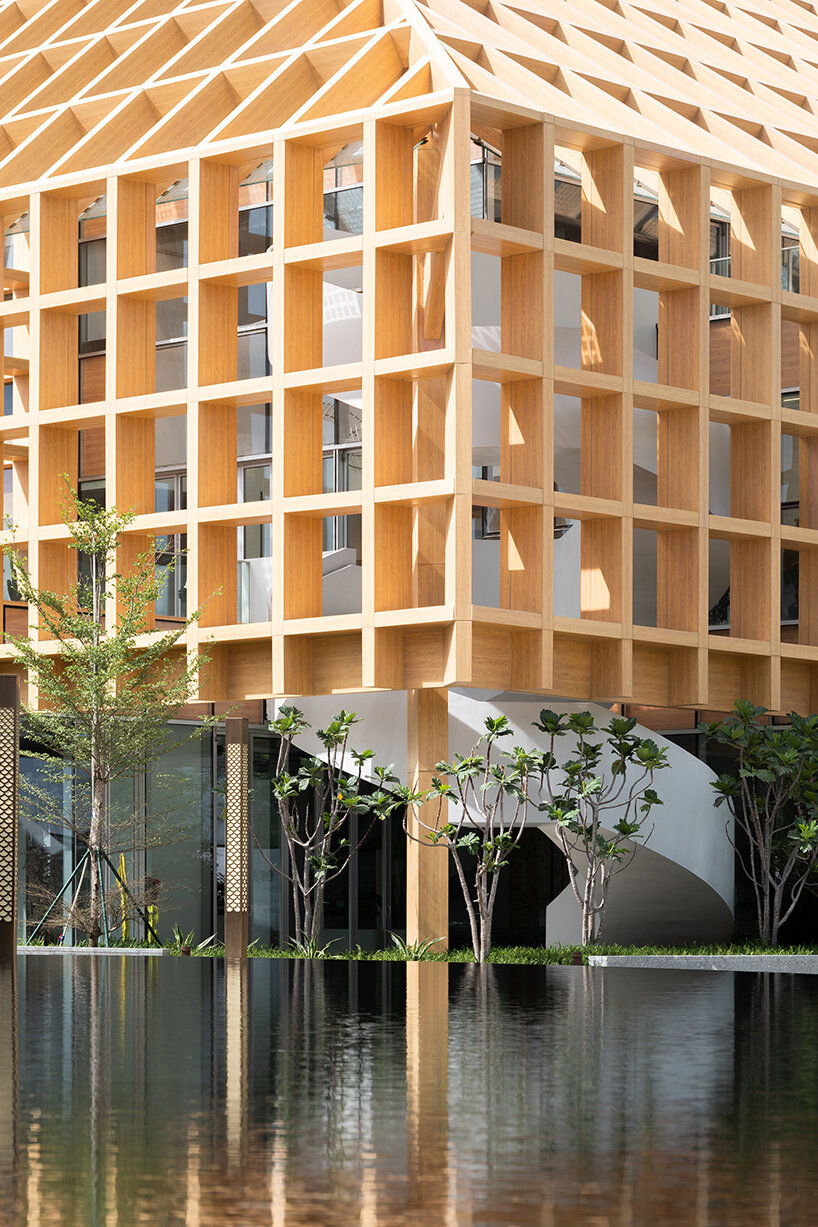 the second point of action was directed to the knitted outdoor public spaces combined with the outdoor circulation. a sculptural spiral staircase dominates the interior while the enormous multifunctional theater stairs connect the interior and exterior spaces, providing an easier transition through the spaces. finally, they added a wooden grid structure – inspired by the traditional house of the hainan li nationality – ensuring transparency and visual interaction between the levels. In addition, the grille helps natural light and ventilation to circulate inside, at the same time reducing the absorption of sunlight by 70% and providing an unobstructed view of the surrounding landscape.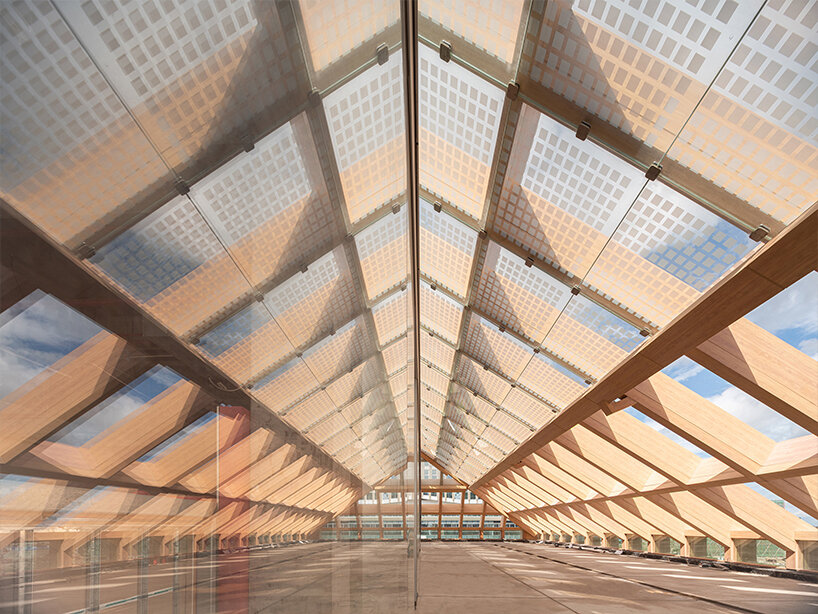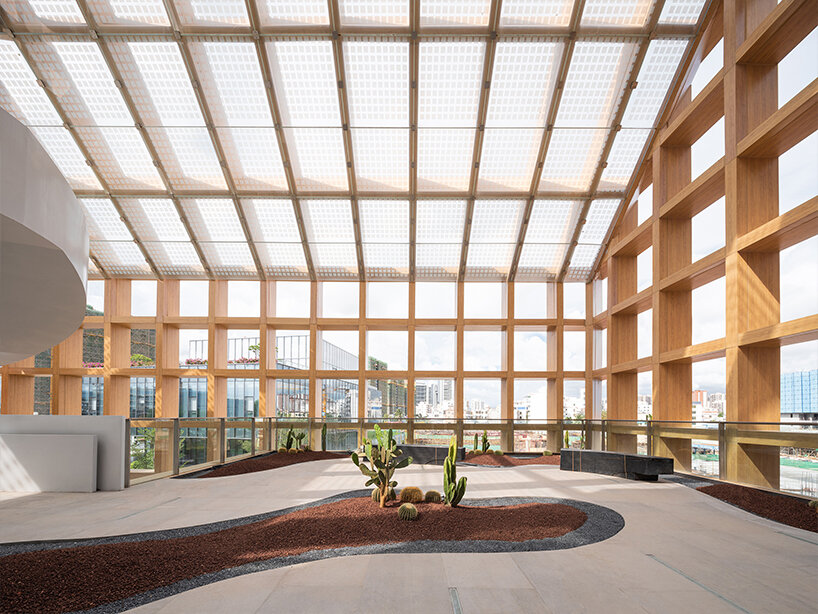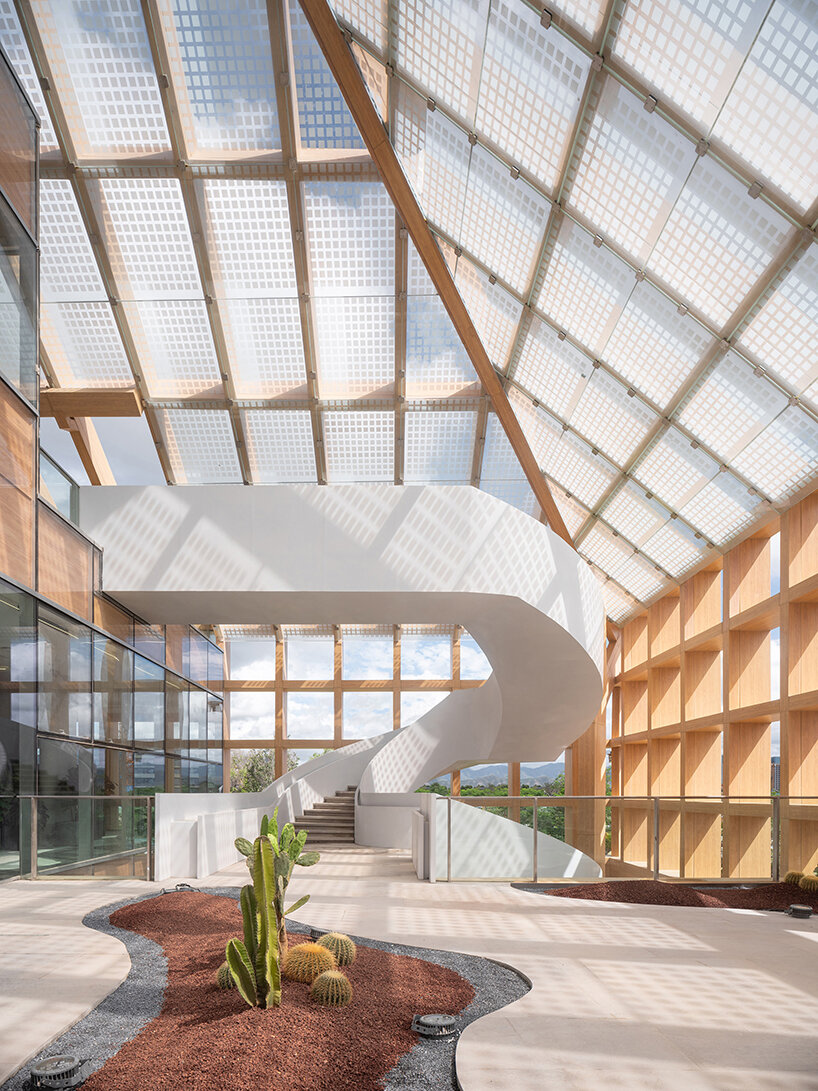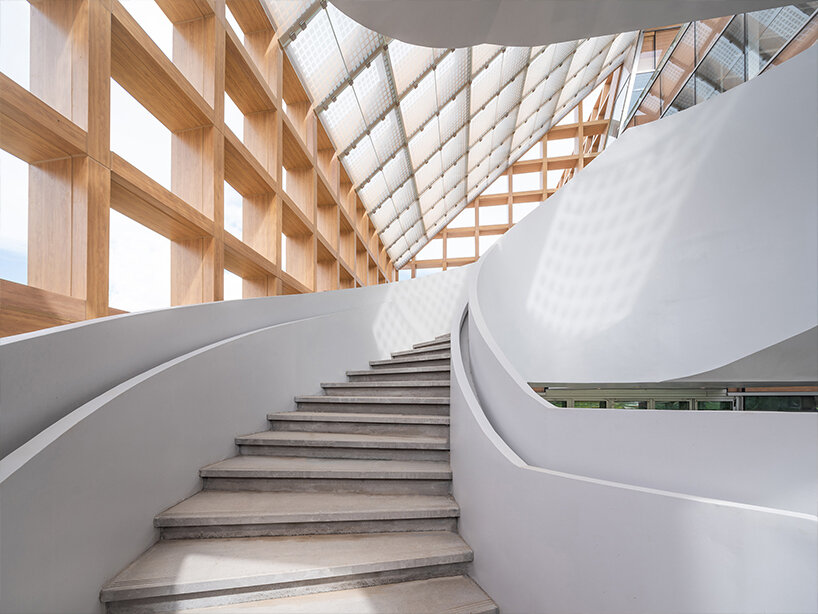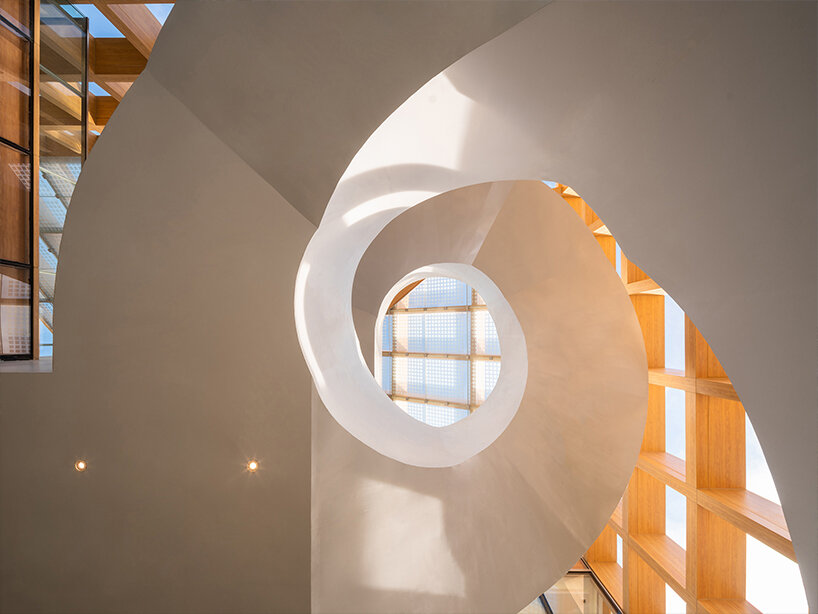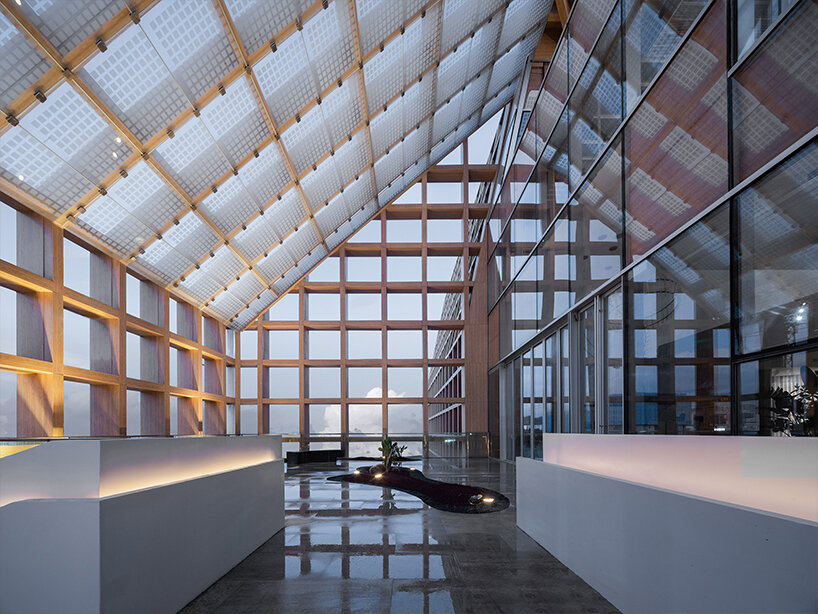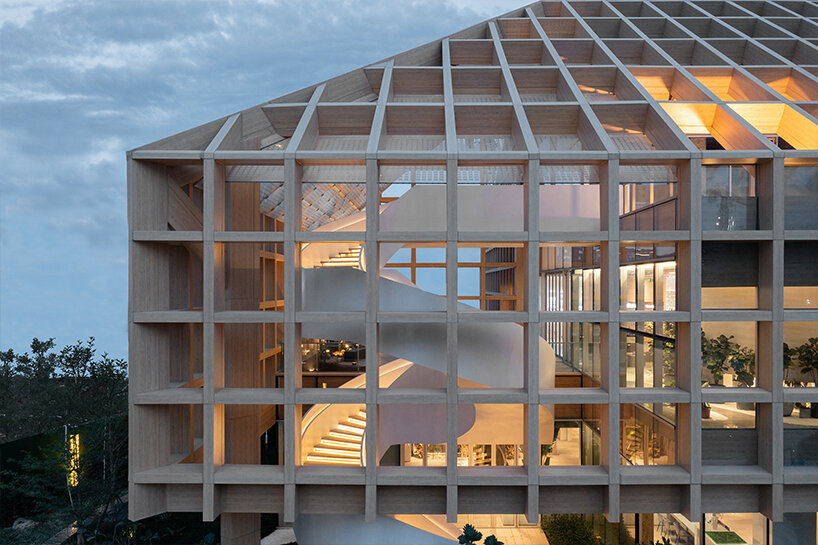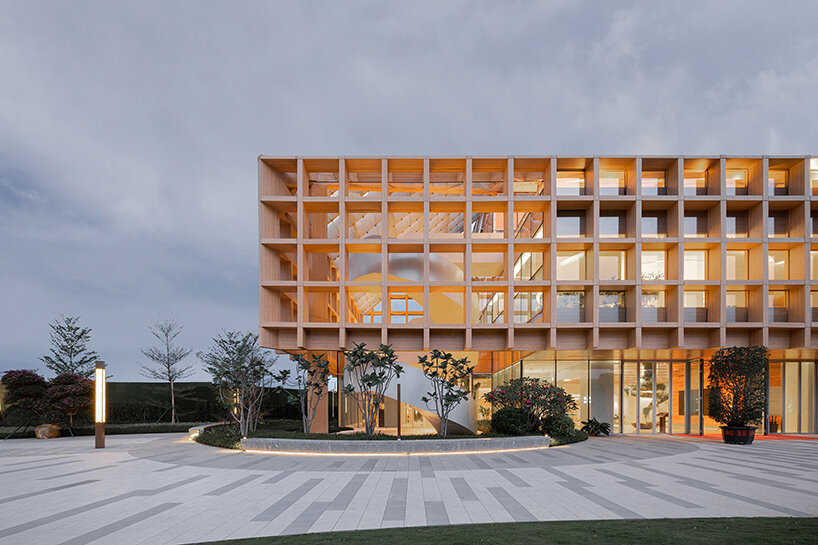 project info:
Last name: sanya farm
architectural design: CLOU architects
design team leader: jan clostermann, lin li
design team: na zhao, sebastian loaiza, cozy julien, yaxi wang, tianshu liu, tiago tavares, principia wardhani, javier peláez, yiqiao zhao
construction drawings / mep / structure: urban architecture design co., ltd
facade advisor: chinese construction technique group co., ltd.
interior design construction drawings: G-Aart design lighting consultant: fuzhou bovs lighting design co., Ltd.
location: Sanya, Hainan Island, China
construction area: 6,900 m² (74,270.9 ft²)
status: completion in 2021
customer: jinmao sanya nanfan rongmao real estate co., ltd.
photography: shiny lab
christina petridou I design boom
Jul 14, 2021