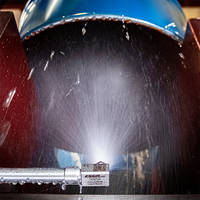 New liquid atomizing spray nozzles operate up to 250 PSI
Summary of the press release:
Operating temperatures up to 800 ° F (427 ° C)
Provides a full or hollow cone jet for pressurized liquids in sizes 1/4, 3/8 and 1/2 NPT
Type 303 stainless steel construction provides durability and corrosion resistance
---
Original press release:
Liquid pressurized cone nozzles are here
EXAIR's new FullStream ™ and HollowStream ™ liquid spray nozzles provide a full or hollow cone spray pattern for pressurized liquids in sizes 1/4, 3/8 and 1/2 NPT. These inexpensive and versatile nozzles provide the ideal solution for cooling, cleaning, flushing and dust suppression applications. They produce droplets by rotating the liquid and breaking its surface tension through a precision orifice or by impacting the liquid on a surface of the nozzle.
Compared to EXAIR air atomizing spray nozzles, liquid atomizing spray nozzles generate more liquid volume and produce a coarse spray. The higher liquid flow rates benefit some common industrial applications such as cleaning, cooling, rinsing, dust suppression and washing. Many liquid atomizing spray nozzles work well when the liquid they are spraying contains particles or is sludge. They operate at liquid pressure up to 250 PSI.
Type 303 stainless steel construction provides durability and corrosion resistance, with operating temperatures up to 800 ° F (427 ° C). FullStream and HollowStream nozzles are CE compliant and available with a variety of flow rates. They complement EXAIR's wide range of air atomizing and drip-free air atomizing nozzles. Models come with our 5 year Built to Last warranty. https://exair.co/93-LNmulti
Contact:
Pam Starrett, Marketing Coordinator
Phone: + 1-800-903-9247
Fax: + 1-513-671-3363
For more information, contact:
EXAIR Company
11510 Goldcoast Drive
Cincinnati, Ohio 45249-1621
Phone: + 1-800-903-9247
Fax: + 1-513-671-3363
Email: [email protected]
https://exair.co/93-LNmulti
Contact this company
More fluid and gas flow equipment