October 26, 2021, San Diego Metro Magazine
The newly completed head office of Cubic Corporation
brings together its San Diego-based workforce
Cubic Corporation, the 70-year-old San Diego-based company serving the defense and transportation industries, witnessed the completion of its new headquarters on Balboa Avenue in Kearny Mesa, the result of the merger of its two main campuses in one.
The inauguration of the new head office took place in July 2019. Cubic partnered with Cisterra Development for the construction. The entire design was handled by Ware Malcolm, an award-winning international design firm.
Two 125,000 square foot, three story buildings were constructed on the site at 9333 Balboa Ave.
Ware Malcolm said the architectural design of the new buildings uses the Cubic brand as the focal point of the project. Many design features have been incorporated into the main entrance and lobby with a floating cubic logo, a characteristic three-story staircase that wraps around the exterior glass wall, promoting interaction and movement in the space. . Including new facilities, the total campus area is approximately 415,000 square feet.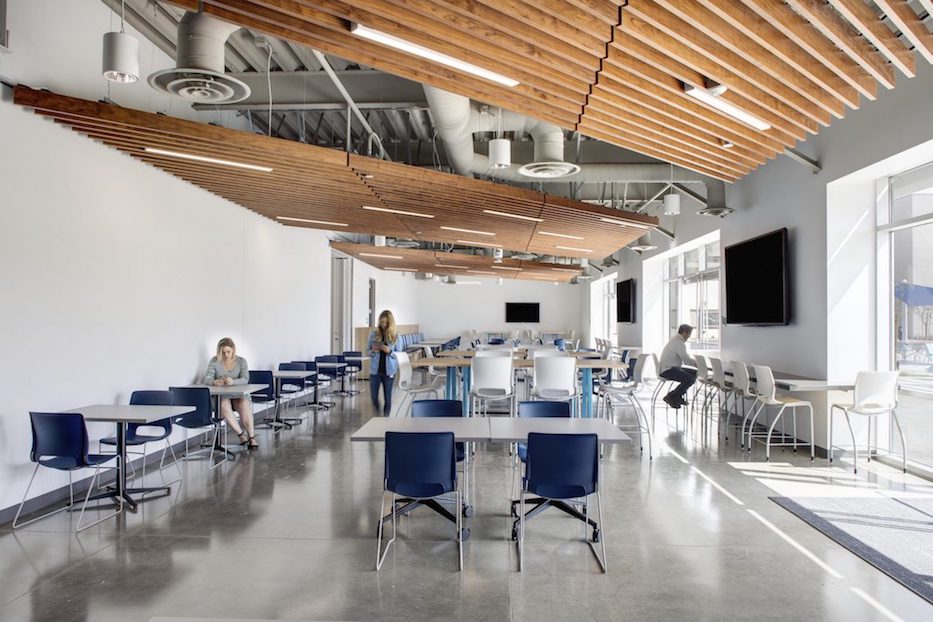 The overall design of the office includes a modern and efficient workplace to promote cross-pollination between departments and encourage innovation. Ware Malcomb also designed various convenience spaces across campus, including a full-size kitchen / cafe, outdoor lounge, conference center, and fitness center. The cafe has a glass wall designed to reduce solar heat in the summer and allow sunlight to warm the interior slab during the cooler months.
PHOTOS by Haley Hill Photography
---
Zyter and Qualcomm partner to implement
state-of-the-art smart warehouse
Zyter announced the implementation of a latest generation smart warehouse for A screen located in San Diego, which will be equipped with products from Qualcomm Technologies Inc.
The intelligent warehouse design for OneScreen plans to include a private LTE network, the implementation of a digital twin, a robust warehouse management system, autonomous mobile robots (AMR), AR / VR technologies, IoT sensors and more.
The modern smart warehouse will increase warehouse operational efficiency, enable automated inventory control, improve safety and security within the facility, and save time and money for employees and customers of OneScreen, according to Zyter.
"This smart warehouse project illustrates how Qualcomm Technologies and its IoT ecosystem are essential to enable the global digital transformation of industries with a differentiated approach that leverages the growing number of smart devices that make up the connected smart edge," said the company said in a statement. .
---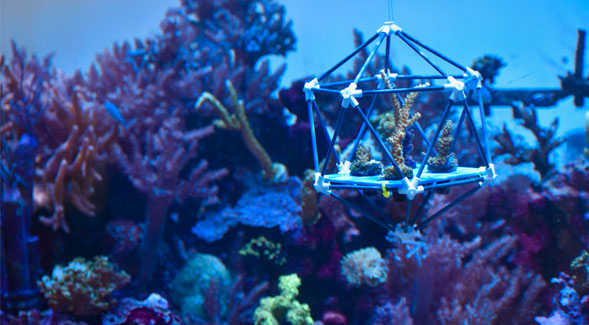 San Diego State University researchers
join the fight to save the coral
San Diego State University PhD Candidate Jason Baer is on a mission to restore coral reefs damaged by climate change, overfishing or tourism using arch structures, the first of their kind.
Baer and his fellow lab members, led by SDSU microbial ecologist and virologist Forest Rohwer, deploy the large geodesic structures in the intermediate waters above the ocean floor and seed them with corals and organisms that support them. health. Arches, similar to the concept of Noah's ark, give endangered coral communities a second chance to thrive.
Their positioning in the middle of the water, where the light and flow are higher, provides an improved environment for corals and their allies and keeps them away from some of the stressors they face on the seabed, such as the sedimentation and suffocation.
Baer, ​​along with Rohwer Lab members Anneke van der Geer, Andres Sanchez-Quinto and Mark Little, spent six weeks in Curaçao, an island in the Caribbean, working with the CARMABI maritime station last summer. Together, they deployed the first arches on the coral reefs and began to study the communities that recruited them, with the aim of seeing a reef community "built".
---
Three regional clean energy companies graduated
by Cleantech San Diego Business Accelerator
Cleantech San Diego announced the graduation of local clean energy companies Aquacycl, Kitu systems and New of his Southern California Energy Innovation Network (SCEIN).
SCEIN is an acceleration program for clean energy startups based in San Diego, Riverside, San Bernardino, and Imperial counties that are developing technologies to help California meet its clean energy goals. The program offers free business services through a consortium of regional partner organizations to help energy entrepreneurs successfully commercialize their innovations.
Since entering SCEIN in 2017/2018, Aquacycl, Kitu Systems and Nuvve have secured multiple clients, built strong sales pipelines and raised enough capital to support the scale-up of their breakthrough energy businesses. A company graduates from SCEIN when it is mutually agreed that it has used the full range of resources and references available to it. Seven regional clean energy companies have now graduated after receiving personalized business service plans from the program.
---
California may soon impose new water restrictions.
Here's what it means in San Diego
San Diego could be forgiven for not knowing how seriously to take the current drought in California. Governor Gavin Newsom said a statewide emergency last week, reiterating the desire for urban water users from San Diego to Sacramento to voluntarily reduce their consumption by 15%. This would bring water consumption back to roughly what it was in 2016, after the government of the day. Jerry Brown released the state's very first mandatory drought restrictions.
However, the San Diego County Water Authority has repeatedly assured residents that the area has enough water for another year, maybe two. And after Newsom's announcement, officials at the wholesaler called on San Diego to cut water by just 10 percent, while again minimizing the urgency of the situation.
---
San Diego research centers get $ 15 million for training
next generation of regenerative medicine scientists
Three San Diego research institutes have received nearly $ 15 million from the California Institute of Regenerative Medicine (CIRM) to train the next generation of scientists in regenerative medicine, a field of research with great promise for generating transformative drugs.
Sanford Burnham Prebys, Scripps Research and the University of California at San Diego each received grants of approximately $ 5 million from CIRM to support the training of graduate students, postdoctoral fellows and clinical trainees.
Sanford Burnham Prebys received $ 4,931,353 to launch a multidisciplinary stem cell training program. The grant will provide funds for competitive prices for the doctorate. students, post-docs and clinical fellows in the fields of stem cells, gene therapy and regenerative medicine at the institute.
---
The UC adopts recommendations for
use of artificial intelligence
The University of California adopted a set of recommendations to guide the safe and responsible deployment of artificial intelligence in UC operations, and three researchers from UC San Diego participated in the effort.
UC becomes one of the first universities in the country to establish general principles for the responsible use of artificial intelligence (AI) and a governance process that prioritizes transparency and accountability in decisions concerning the when and how AI is deployed.
The recommendations were developed by the University of California Presidential Task Force on Artificial Intelligence. The group was started in 2020 by UC President Michael V. Drake and former UC President Janet Napolitano.
The group included three professors from UC San Diego. Nadia Henninger is an associate professor whose work focuses on cryptography and security. Lawrence Saul is a professor whose research interests are machine learning and data analysis. Camille Nebeker is a professor who co-founded and directs the Research Center for Optimal Digital Ethics in Health at UC San Diego.
---
Quitang Li, Neurophth CSO, appointed to
Top 25 women leaders in biotechnology
Neurophth Therapeutics Ltd., a genomic drug company seeking to improve lives through the curative potential of gene therapies, announced that Qiutang Li, Chief Scientific Officer of Neurophth, was named to The Healthcare Technology's Top 25 Women Biotech Leaders of 2021 Report .
Qiutang Li has over 30 years of experience in basic and applied biomedical research with extensive knowledge in gene therapy for liver deficiencies, eye disease and viral vector reconstruction.
She joined Neurophth from the University of Louisville School of Medicine, where she was a Full Professor in the Department of Ophthalmology and Visual Sciences for over 14 years. Throughout his career, Li has published over 45 publications in peer-reviewed journals. She received her BA and MA in Genetics from Peking University, China, and her PhD in Molecular Cell Biology from Washington University, St. Louis.
---
Tower 16 Capital Partners acquires
multi-family property in the Moreno Valley
Based in San Diego Tower 16 Capital Partners acquired Sorelle Apartments, a 330-unit multi-family property located in Moreno Valley, California, for $ 85 million. The Sorelle Apartments project was built in 1986 and was acquired from a private seller as part of an off-market transaction.
Tower 16 was represented by Ed Rosen of the Berkadia office in San Diego. NorthMarq helped secure debt financing for the buyer, led by Bryan Mummaw and Bryan Liu.
---
COASTER Train Increase Service
between Oceanside and San Diego
Commuters, residents and visitors now have a new option to travel from Oceanside to San Diego and everywhere in between along the coast. The COASTER train increases service to 30 daily trips Monday through Friday, with two more on Friday. On Saturdays and Sundays, daily trips increase to 20 all year round.
Not only will the increased service provide commuters and recreational travelers with an affordable and more flexible transportation option, it will help reduce congestion along the I-5 corridor. Equally important, the increased service supports regional targets for reducing vehicle kilometers and greenhouse gas emissions.
The increase in the number of COASTER trips responds to customer demands for more frequent service and evening trips. The expanded COASTER service is fully funded by TransNet, the county-wide half-cent sales tax approved by over two-thirds of voters for transportation projects administered by the San Diego Association of Governments.