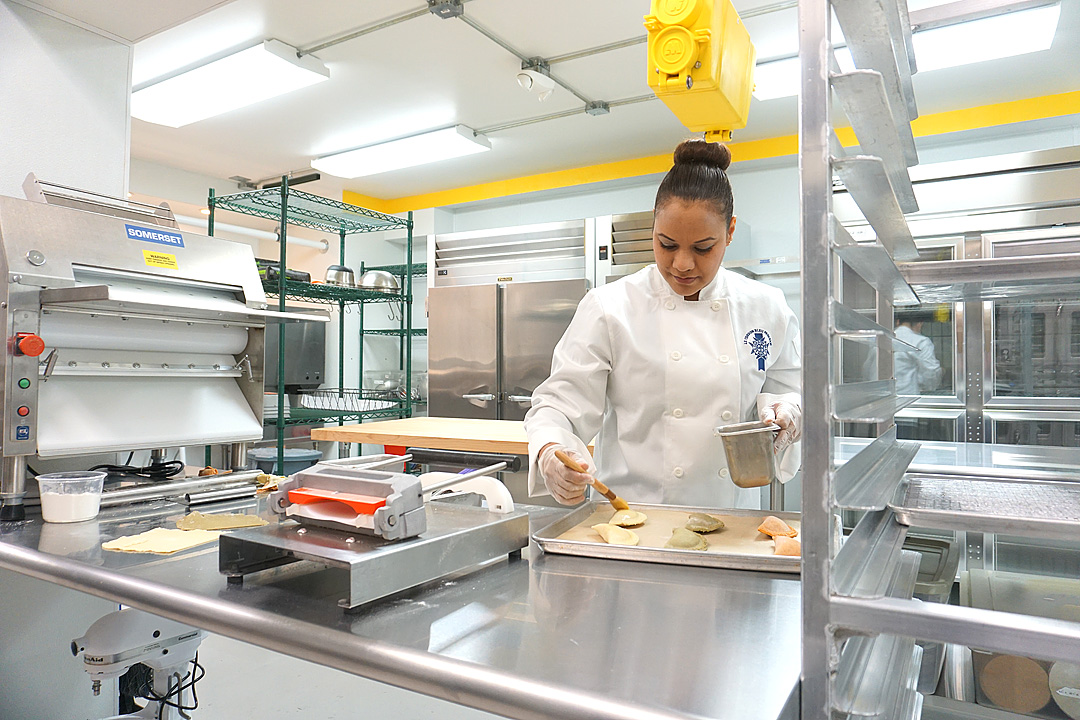 Yellow Springs Baking Company to Open • The Yellow Springs News
Fresh out of the oven, a new business is coming to Yellow Springs. Next opening is the Yellow Springs Baking Company, located in the heart of the Millworks Business Center.
The Yellow Springs Baking Company aims to be the village's newest hub for artisan and handmade breads, empanadas, soups, baked goods, pastries and more.
Although a specific date for the official ribbon cutting has not been set, the new venture has nonetheless generated good local enthusiasm around their edibles. As part of an extended smooth opening, the bakery business has opened to the public for the past two weekends.


According to co-owner and owner Rob Houk, the smooth openings were a resounding success. Between the two weekends, dozens of villagers and visitors came to sample the limited menu, which included generously iced cinnamon buns, a handful of varieties of empanadas, deep quiches, and hearty bean and aubergine soup. kale.
"The turnout and the overall responses have been incredibly encouraging," Houk told The News.
"We've heard a lot of people use the word 'amazing' which, to me, indicates we're doing something right."
Houk said social media, a local curiosity and word-of-mouth promotion among village foodies was what brought the bulk of the crowd to its openings smoothly.
While the real secret to the bakery business's initial popularity, Houk said, lies in the culinary expertise of his wife / business partner.
"It's my passion," Karina Tafolla, co-owner and chef at the new business, told News in a recent interview. "I love to cook and cook, but here I try to do something more sophisticated. "
Tafolla, who was born and raised in Mexico, said cooking has always been a family affair. Some of his earliest memories involve working in the home kitchen with his grandmother. Later, she said her parents would organize dinners for family, friends and neighbors.
"Here at the Yellow Springs Baking Company, I want to put a twist on all kinds of traditional recipes using my experience and heritage," Tafolla said.
And this background is not only cultural, it is also technical. In the early 2000s, Tafolla graduated from the Morelia Institute of Technology in Computer Engineering. Years later, after immigrating to the United States and landing in Pasadena, California, Tafolla kept his passion for cooking on the back burner to work in information processing, primarily property management and inspection.
It was around this time that she met Houk – a native of Enon, Ohio, and a former student of Greenon High School – who also ended up in Southern California around this time. Working as a licensed contractor for the rehabilitation and renovation of houses, Houk's path crossed that of Tafolla.
"We clicked right away," Houk said.
Shortly after the couple married in 2014, Tafolla's interest in the culinary arts began to resurface. She enrolled in the famous Le Cordon Bleu culinary school in Pasadena. It was an intensive one-year program, she said, involving an assortment of hyper-specialized classes and volunteer stints at a number of upscale kitchens in Pasadena and Los Angeles.
"At Le Cordon Bleu, I was able to learn from different chefs from all over the world," said Tafolla.
"Japanese, English, French and other chefs from everywhere. But the chef who taught me the most was from Thailand. I learned how to use all kinds of spices, how to mix them and which spices go well with others.
After graduating from culinary school, Tafolla spent the next year continuing to volunteer and work at upscale restaurants in town, often as a guest chef.
"The food was good before she even graduated," Houk said. "She's always had this amazing ability to know food and what works. But still, she was getting better and better. I always knew she was much better at her job than I was at mine.
Then, at the end of 2017, Tafolla and Houk moved to Yellow Springs.
"Yellow Springs made a lot of sense to us," Houk said. "It was a nice change to leave a city of almost 4 million people – with the friends we had who lived more than 40 minutes away. Now I no longer have to travel to see my friends or argue with my neighbor.
After the move, Tafolla found work running the St. Anne de Tart Kitchen, a now closed bakery and cafe in Dayton. She later found a job closer to home, working as a baker at Yellow Springs' own current kitchen for just over a year, starting in early 2020.
With the respite from the routine provided by the first months of the pandemic, Tafolla and Houk found themselves with more time to envision a long-held dream: to start a bakery business.
"The village made sense for this sort of thing – personally and professionally," Houk said. "We thought a lot of people here might appreciate what Karina can do."
Initially, the couple had their eyes set on the former Miami Township fire station on Corry Street as a potential site for the future bakery business, but after it was sold to local comedian Dave Chappelle for a comedy club, Houk and Tafolla have had to go back to drawing board.
At the end of 2020, they found an opening at the Millworks Business Center at the north end of the village. In January 2021, the couple signed a lease for a space nestled between tenants at Millworks EnviroFlight and Tuck-N-Red's Spirits & Wines, just down the gravel track from the Yellow Springs Brewery.
The Yellow Springs bakery company was born.
Drawing on his past construction experience and enlisting the help of local builder and baker Frank Doden, Houk quickly got to work remodeling the space to accommodate a fully functional kitchen. In the months since January, Houk and Doden have outfitted the space with wiring, plumbing, and all professional equipment and appliances – mostly stainless steel – to, as Houk put it, "enable Karina to do this. that it does the best ".
"I see this as an opportunity to build a new livelihood around Karina's skills which I think will really connect with people," Houk said.
Now that the kitchen is fully finished, Doden becomes the third part-time co-owner and cook, and Houk takes on a more "grassroots" management role.
"I'm here to make sure cooks have the best environment to create," he said. "I'll try to handle everything that happens outside of the kitchen, whether it's keeping track of books, washing cooktops, cleaning floors, or ordering ingredients. I'm just trying to make it easier for them to do what they do.
In a recent interview, Doden told The News that he now looks forward to the creative opportunities that work at the Yellow Springs Baking Company will offer him.
"I like to do things laminated," Doden said. "So from me people can expect croissants and pastries and things of that nature. I also do British style savory pies – I hope to make both individual size pies as well as family size pies with a variety of toppings. And there are cookies that I would like to throw away from time to time.
Taken together, Doden and Tafolla's recipes constitute a unique intersection of culinary styles that they see as a kind of cultural fusion – a meeting of different culinary perspectives and skills: Doden with his Western European-inspired cooking style, and Tafolla with his stable of Central American-style recipes and his long-standing experiences in kitchens across the continent.
"We come from different communities, different cultures. We have different [kinds of] creativity, "Tafolla said. "You can always learn something new from someone else."
Due to these factors, Houk said he expects the menu to change and evolve over time.
"I'm not going to assume I know what the Yellow Springs market wants right off the bat," he said. "We will adjust our offerings as people tell us. I suspect that in Yellow Springs people will tell us whatever they want, either through their wallets or through face to face comments.
But those changes, Houk said, are on the way. After the last two weekends of soft openings, the trio are still cooking whatever they want the bakery business's menu to feature permanently.
"At the start, we'll be pretty limited," Houk said.
In addition to the menu, Houk said the logistics of running the Yellow Springs Baking Company are still being worked out. With no dining option, the trio envision their operations primarily involving take-out and pre-orders. Upon completion of the Yellow Springs Baking Company website – which Houk says is in the final stages of development – customers will be placing their orders almost exclusively online.
"We want to keep things simple for the customer," Houk said. "We developed it so that you can order and pay online, instead of just seeing an image online and then calling to order what you saw. For us, it will be "click, click, click", then come and get your food. "
Houk said he imagines an occasional exception would be made for those with limited access to technology.
"But for some items, like wedding cakes or cakes with personalized decoration, even some breads, we will ask you to order more than 24 hours in advance," Tafolla said.
"In a lot of ways, we see ourselves as a bit of a food truck with no wheels," Houk said. "But instead of going to a window, you can do it from the comfort of your computer or your phone."
In the meantime, while the Yellow Springs Baking Company continues its smooth weekly openings, Houk, Tafolla, and Doden are encouraging customers to simply go to their bricks and mortar to place their orders.
They say the best way to keep up with the company's weekly hours, deals and specials is through their social media channels – on Facebook at facebook.com/yellowspringsbakingco and on Instagram at @ysbakingco. For now, orders can also be placed by email to [email protected]
The official opening is scheduled for early 2022, and an announcement will appear in an upcoming issue of the News.